Contest! Free stuff! Ends 03/01/15!
How would you like to win a genuine "Ghost Box?" This is a Radio Shack 12-469 which has been professionally converted to sweep both AM and FM bands in a linear manner. These "shack hacks" are very popular and a staple in every paranormal investigators toolkit. These things are no longer made and incredibly difficult to find. They often sell for $200+ on eBay!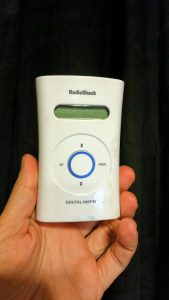 I used this particular box while investigating America's Most Haunted Hotel and had some very interesting results!
The rules are simple:
1) If you haven't already liked my Facebook author page (https://www.facebook.com/AuthorLarryFlaxman) please do so first.
2) Leave a comment on the contest post AND SHARE IT on your own page! This is very important! Be sure to comment below the post so that I can enter you in the contest! Yes, I will check if you actually shared it or not!
The winner will be randomly selected on Sunday, March 1st at 10am and their name will be posted on my Facebook author page.
Each and every person that posts below will be assigned a number (according to the order in which you post – for example, Catherine Valera was the first one to post, so she would be #1. I will enter each name and the corresponding number into a spreadsheet. Once the contests ends, I will use the random.org website to generate a random number between 1 – number of total entrants. The randomly generated number will then be matched up with the corresponding name and the winner will be announced!
You can't win if you don't enter so… Ready…Set…Go!