BOOKS
"A WRITER IS A WORLD TRAPPED IN A PERSON." – VICTOR HUGO
The Grid –
Exploring the Hidden Infrastructure of Reality
---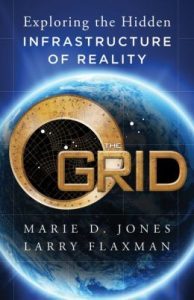 The examination of parallel universes, wormholes, & extra dimensional portals might sound like the beginning of a Ray Bradbury novel—but this isn't science fiction.
In The Grid: Exploring the Hidden Infrastructure of Reality, authors Larry Flaxman and Marie D. Jones present their theory of The Grid —the pattern by which all of reality is built upon and structured around. Using evidence from quantum theory as well as support from many religious and spiritual traditions, The Grid hypothesizes that, like a skyscraper, reality is constructed in a rising grid pattern, layer upon layer, with doors, windows, stairs and other "connectors" between levels of reality, and theorizes that we may be able to use these connectors to access other planes of reality.
With illustrations to demonstrate the true, hidden nature of reality, and examples pulled from both science and many major religions, The Grid: Exploring the Hidden Infrastructure of Reality examines the evidence for the author's theory, and presents an explanation for the interconnectivity of all of existence.