LARRY FLAXMAN
BEST SELLING AUTHOR | PARANORMAL THEORIST | RESEARCHER | SPEAKER
BIOGRAPHY
---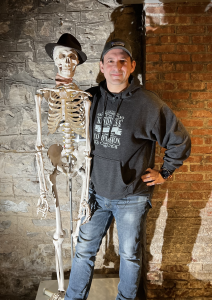 M

eet Larry Flaxman, a trailblazing author and researcher on a mission to unravel the mysteries of the paranormal and the intriguing world of "fringe" science. Known for his best-selling books like "11:11 – The Time Prompt Phenomenon" and "The Afterlife Book: Heaven, Hell, and Life After Death" as well as The Grid: Exploring the Hidden Infrastructure of Reality," Larry's writing doesn't just inform—it captivates, leaving readers wide-eyed and hungry for more.

For over two decades, Larry has delved into paranormal research with a scientific twist. Imagine quantum physics meets human consciousness through real-time EEG monitoring, a groundbreaking approach that has made Larry a pioneer in the field. As the President of ARPAST, one of the country's premier paranormal research groups, he's at the forefront of pushing boundaries.

You might have caught Larry on TV, sharing his expertise on shows like the History Channel's popular show "Ancient Aliens", the Travel Channel show "Portals to Hell", Discovery's Channel's "Ghost Lab" as well as the Fox Nation series "Haunted Hotels." His voice has echoed across the airwaves on popular radio shows like Coast to Coast AM, The Jeff Rense Show, and many more. Magazines like TAPS ParaMagazine and New Dawn Magazine have featured Larry's insights, solidifying his status as a sought-after expert.

Beyond the supernatural, Larry is the founder of The Bridge of Compassion Foundation, 501(c)(3) non-profit making a tangible impact on the lives of the less fortunate. His passion for compassion extends to his impressive collection of unique artifacts, often available in his online shop—because who wouldn't want to own a piece of history?

But Larry isn't all about the mysterious; he's also a connoisseur of all things with wheels and a motor. From charity events to motor exhibitions, you'll find Larry with his impressive collection of cars and motorcycles, reveling in the visceral sound and feel of a motor at redline.

In the realm of Larry Flaxman, the paranormal and the extraordinary are just the tip of the iceberg. Explore with him, and you're in for a ride through the unknown, all narrated with a touch of humor and a straight-shooting style that makes the extraordinary seem not just possible but downright fascinating.