LARRY FLAXMAN
BEST SELLING AUTHOR | SCREEN WRITER | RESEARCHER | SPEAKER
BIOGRAPHY
---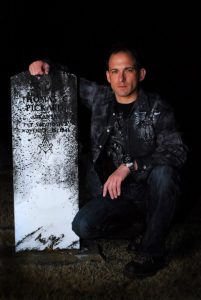 B

est selling author and researcher, Larry Flaxman, is on a mission to inform, empower, and entertain those fascinated by the paranormal and "fringe" science!

Best-selling author of nine books including "11:11 – The Time Prompt Phenomenon: The Meaning Behind Mysterious Signs, Sequences and Synchronicities," "The Grid: Exploring the Hidden Infrastructure of Reality," and "Viral Mythology: How the Truth of the Ancients was Encoded and Passed Down through Legend, Art, and Architecture," Flaxman continues to write ground-breaking books on cutting-edge research that leave readers, researchers, and reviewers open-mouthed in disbelief of the truth as it's presented to them.

For nearly two decades, Flaxman has been actively involved in paranormal research and hands-on field investigation with a strong emphasis on attempting to apply the scientific method to unexplained phenomena. Flaxman is redefining the field of paranormal research with his focus on connecting quantum physics (specifically entanglement and the observer effect) to human consciousness via the use of "real-time" EEG analysis of the experiencer. He is the President and Senior Researcher of the Arkansas Paranormal and Anomalous Studies Team (ARPAST) which has become one of the nation's most respected paranormal research organizations.

Widely respected for his advances in the field, Flaxman has appeared on the Discovery Channel's "Ghost Lab" as well as the History Channel's popular show "Ancient Aliens", and the History Channel special expose "Time Beings: Extreme Time Travel Conspiracies." 

Flaxman has appeared on hundreds of radio shows worldwide include Coast to Coast AM, The Shirley MacLaine Show, The Jeff Rense Show, X-Zone Radio, TAPS Family Radio, and Paranormal Podcast.

As a staff writer for Intrepid Magazine, Flaxman's work appears regularly in TAPS ParaMagazine, Fate Magazine, New Dawn Magazine, and Phenomena Magazine. Flaxman is often called on to provide expertise for dozens of other publications including "The Times Herald News," and the "Villager Online."

Flaxman is the founder of The Bridge of Compassion Foundation, a nonprofit 501c(3) charity dedicated to bridging the gap between those in need and those with a compassionate heart willing to make a difference. Positively impacting and improving the quality of life for the homeless and indigent by providing basic human necessities. Delivered with compassion, dignity, and respect.

Flaxman is an avid collector of all things unusual – whether it be historic antiquities, medical collectibles, funerary items, or even the completely bizarre,  he likely has it in his collection! In fact, he maintains one of the largest collections of Pre-Columbian artifacts in the United States! Oftentimes you can find some really cool items for sale in his online shop as he clears space to make room for more!

Flaxman's hobbies include a diverse range of activities. For some people, fishing or collecting stamps is their hobby of choice, but he has been fascinated with cars and motorcycle since a young age and is addicted to the visceral sound and feel of a motor at redline! Larry maintains an impressive collection of vehicles and can often be found at charity events and car shows with some of his toys!