TOGETHER WE CAN MAKE A DIFFERENCE
MY CHARITY INITIATIVE
---
As I said on my Causes page, I have been involved in various philanthropic efforts for as long as I remember. I believe it is in our nature to help – have you ever felt guilty when you have decided not to help someone who truly is in need? Of course you have! Giving and helping fellow humans is an innate tendency! I urge you to follow your heart and give to an organization that you feel strongly about.
"No one has every become poor from giving." – Anne Frank
Sometimes though you see a need first hand and know in your heart you cannot simply ignore it. You know that you personally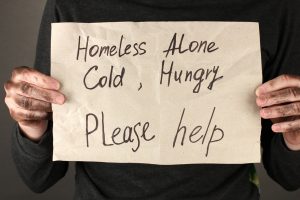 must do what you can. And that is exactly what happened this past June during my trip to Atlanta for the 7th Annual Through The Veil Conference. I was returning back to the downtown area after having dinner in one of my favorite neighborhoods on the outskirts of the city and as we drove through a large underpass I was shocked by the number of homeless people bunking down for the night. We arrived back at the hotel but I couldn't get that image out of my mind. I knew that I couldn't drastically change all of their lives but I knew that I could do something to make life a little more pleasant for at least that evening and let them know that they mattered and that someone cared. Sooooo… I called the local McDonald's and ordered 100 cheeseburgers (they thought it was a prank at first) and I gathered up some of my TTV friends and we spent the evening handing out cheeseburgers on the streets of Atlanta.
I knew it couldn't be a one time thing. It couldn't stop there. I recently had a dream and in that dream was the inspiration for Project Winter Warm Up!

You can read more about Project Winter Warm UP! here …..
---
It won't stop here! The fire has been lit and my goal is to see this initiative grow into a full fledge foundation that will help those in need. Everyone needs help sometimes and everyone matters!
So stay tuned for future projects!