Oct
4
Thu
Exploring the Bizarre – Radio
Oct 4 @ 9:00 pm – 11:00 pm
I will be on Exploring the Bizarre, hosted by Timothy Beckley and Tim Swartz, talking about "This Book is From Your Future".
Tune in at 9pmCST/10pmEST – Thursday, Oct 4, 2018, at KCORRadio.com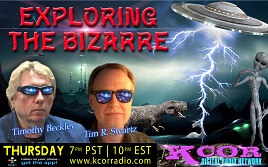 Nov
3
Sat
History Haunts and Legends – Fall Event – 2018

@ Jefferson Tourism and Visitor Center
Thrilled to announce I will be returning to speak at History Haunts and Legends in Jefferson, TX this November! 
A fun Fall event for the history buff, avid ghost hunter, and people with an interest for the unexplained and things that go bump in the night! Special guest speakers, authors, vendors, book signings, galleries, night time tours and investigations, and much much more.